LOCAL POWER AND MUHAMMADIYAH IN KOTAGEDE
Abstract
There has been a few studies on Kotagede with given focus on local architecture,
cultural tourism, local politics and identity and the post-2006 earthquake inquiry but
none of them has a calibre of that of Nakamura's.Overall, it is must be acknowledged that not much been written on this subject with a great depth
since Nakamura did field work in early 1970s and this left a big gap on the
scholarship on Kotagede. This gap of knowledge is seriously needed to be filled
because the findings of Nakamura's study were basically based from the political and
social changes occurred in Kotagede over past four decades.
Keywords
Kotagede; Muhammadiyah; Politics
DOI:
https://doi.org/10.15575/isin.v1i2.1134
Refbacks
There are currently no refbacks.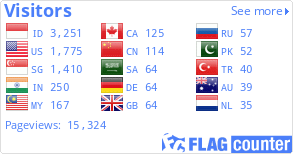 Islamika indonesiana is licensed under a Creative Commons Attribution-ShareAlike 4.0 International License