A Century of NU-Muhammadiyah in Indonesia: The Failure of Islamic Modernism?
Abstract
Islamic modernism represented by Muhammadiyah and Persatuan Islam and Islamic traditionalism symbolized by Nahdlatul Ulama have lasted a century old in Indonesian history (1912-2014). The unavoidable tensions and conflicts between these two contrast Islamic movements occurred in various fields. The modernist has
been trying to promote their modern views and to eradicate tradition. On the contrary, the traditionalist has been working hard to maintain their Islamic tradition and fight for the modernist mission in disseminating their ideas. To some extent, the modernist is quite successful, however by comparative study methods applied in this article to see the result of these two Islamic streams, I argue that in common Islamic modernism has failed to weaken and to eradicate tradition as it was firstly introduced by their initiators over a century ago. The modernist is only successful in its attempt to build its own empire of modernism but without vanishing tradition. Rather than weakening, let alone disappearing, what has been occuring shows the opposite result. Islamic traditionalism even grows larger than modernist group and develops more dynamic in various fields. More than that, Islamic neo-traditionalism has emerged as its new variant, an intellectual movement that found a new land on the problems of modern spiritual drought.
Keywords
Islam Indonesia; traditionalism; modernism; Islamic renewal; failure;
References
Abdullah, Taufik, ed. Sejarah dan Masyarakat. Lintasan Historis Islam di Indonesia. Jakarta: Pustaka Firdaus, 1987.
Ali, Fachry and Bahtiar Effendy. Merambah Jalan Baru Islam: Rekonstruksi Pemikiran Islam Indonesia Masa Orde Baru. Bandung: Mizan, 1986.
Azra, Azyumardi. Jaringan Global dan Lokal Islam Nusantara. Bandung: Mizan, 2002.
Bachtiar, Harsja W. "The Religion of Java: A Commentary," Indonesian Journal of Cultural Studies, 1: 5 (January 1973): 85–114.
Bruinessen, Martin van. "Mencari Ilmu dan Pahala di Tanah Suci: Orang Nusantara Naik Haji," Ulumul Qur'an, 2: 5 (1990): 42- 49.
Burhanuddin, Jajat. "The Fragmentation of Religious Authority: Islamic Print Media in Early 20th Century Indonesia," Studia Islamika: Indonesian Journal for Islamic Studies, 11: 1 (2004).
Hasbullah, Moeflich. "Cultural Presentation on the Muslim Middle Class in Contemporary Indonesia," Studia Islamika: Indonesian Journal for Islamic Studies, 7: 2 (2000).
--------. "Korupsi sebagai Kelemahan Jiwa," Republika, 12 July 2010.
Hefner, Robert W. Hindu Javanese: Tengger Tradition and Islam. Princeton: Princeton University Press, 1989.
Hodgson, Marshall G.S. The Venture of Islam. Conscience and History in A World Civilization, Vol. 2. Chicago: The University of Chicago Press, 1985.
Jay, Robert R. Santri and Abangan. Religious Schism in Rural Central Java. Cambridge: Harvard University Press, 1957.
Latif, Yudi. Masa Lalu yang Membunuh Masa Depan. Krisis Agama, Pengetahuan dan Kekuasaan dalam Kebudayaan Teknokratis. Bandung: Mizan, 1999.
Koentjaraningrat. "Pembicaraan Buku Clifford Geertz, The Religion of Java," Madjalah Ilmu-ilmu Sastra Indonesia, 1: 2 (1963): 188–191.
Ma'shum, K.H. Ali. Kebenaran Argumentasi Alussunnah Wal Jama'ah. Pekalongan: Udin Putra, 1983.
Nasution, Harun. Pembaruan dalam Islam, Sejarah Pemikiran dan Gerakan. Jakarta: Bulan Bintang, 1992.
Noer, Deliar. Gerakan Modern Islam 1900-1042. Jakarta: LP3ES, 1985.
Peskes, Ester and C. Holes. "Wahhâbiyya," The Encyclopedia of Islam, ed. P. J. Bearman, Th. Bianquis, C. E. Bosworth, E. van Donzel and W. P. Heinrichs. Leiden: Brill, 2002, 11: 39-47.
Rakhmat, Jalaluddin. Islam Aktual. Refleksi Sosial Seorang Cendikiawan Muslim. Bandung: Mizan, 1991.
Ricklefs, M.C. Sejarah Indonesia Modern. Yogyakarta: Gadjah Mada University Press, 1993.
Steenbrink, Karel A. Beberapa Aspek tentang Islam di Indonesia Abad Ke-19. Jakarta: Bulan Bintang Jakarta, 1984.
Wahid, Abdurrahman. "Nahdhatul Ulama dan Islam di Indonesia Dewasa ini," Prisma, April (1984).
DOI:
https://doi.org/10.15575/isin.v1i1.2
Refbacks
There are currently no refbacks.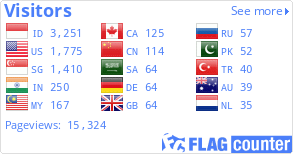 Islamika indonesiana is licensed under a Creative Commons Attribution-ShareAlike 4.0 International License