Islamic Party Survives in 2014 Legislative Election? (The Case of PKS)
Abstract
This paper examines performances of PKS in the last 2009 election, West java and DKI Jakarta gubernatorial elections and the current 2014 legislative election to answer whether PKS looses or survives their political support from Indonesian people in the 2014 election. Although the cadres of PKS is still solid compare to that of other parties, there are a variety of reasons why the popularity of PKS slightly declined in the 2014 election compared to that of 2009 election. The involvement of the former president of PKS, Luthfi Hasan Ishak, in the case of beef graft has lessened the confidence of Indonesian people to the integrity of PKS in eradicating corruption in Indonesia. Thus, many Indonesians have doubt and less confidence in the capacity of PKS to solve other national problems. In addition, the weak and the least possible figure of PKS to be nominated as a president candidate is another reason why PKS cannot become a champion in the 2014 presidential election. Looking at the quick count result done by several survey institutions, however, PKS is considered to be survived in the 2014 election. They successfully maintain and strengthen their cadres' solidity. Their leading figures were quite successful in rebuilding trust not only for their loyal cadres but also public in general that they are really 'clean' and 'professional' and ready to combat corruption in the country. PKS proved to the public that the case of their former president was 'the only corruption case' done by 'personally individual' (oknum) whom they will not tolerate.
Keywords
Political Islam; PKS; General Election; Indonesia
References
Anwar, M. Syafi'i. "PKS's Vision and Strategy." Van Zorge Report (2004): 1.
Bastoni, Hepi Andi and Syaiful Anwar. Penjaga Nurani Dewan: Lebih Dekat Dengan 45 Anggota DPR RI Fraksi PKS. Bogor: Pustaka al-Bustan, 2006.
Collins, Elizabeth Fuller and Ihsan Ali Fauzi. "Islam and Democracy! The Successful New Party PKS is a Moderate Alternative to Radical Islamism." Inside Indonesia (Jan-March 2005).
Damanik, Ali Said. Fenomena Partai Keadilan: Transformasi 20 Tahun Gerakan Tarbiyah di Indonesia. Jakarta: Teraju, 2002.
Dewan Pimpinan Wilayah PKS Jawa Barat. Menyelamatkan Bangsa: Platform Kebijakan Partai Keadilan Sejahtera. Bandung: Lajnah Pemenangan Pemilu DPP PKS, 2004.
DPP Partai Keadilan. Sekilas Partai Keadilan. Jakarta: 1998.
-------. Manajemen Tarbiyah Anggota Pemula. Jakarta: Syaamil Cipta Media, 2004.
Furkon, Aay Muhamad. Partai Keadilan Sejahtera: Ideologi dan Praksis Politik Kaum Muda Muslim Indonesia Kontemporer. Jakarta: Teraju, 2004.
Hasan, Noorhaidi. "Islamist Party, Electoral Politics and Da'wa Mobilization among Youth: The Prosperious Justice Party (PKS) in Indonesia," RSIS Working Paper. Singapore: Rajaratnam School of International Studies, 2009.
Kamaruddin, Ada Apa Dengan Partai Keadilan Sejahtera: Catatan Dari Warga Universitas Indonesia. Jakarta: Pustaka Nauka, 2004.
Liddle, R. William and Saeful Mujani. "Indonesia in 2004: The Rise of Susilo Bambang Yudhoyono." Asian Survey, 45:1 (2005).
Machmudi, Yon. Partai Keadilan Sejahtera : Wajah Baru Islam Politik Indonesia. Bandung: Harakatuna , 2005.
Mahmada, N. Darol. "Nabi Itu Monogami." Gatra, December 5, 2007.
Mietzner, Marcus. Indonesia's 2009 Elections: Populism, Dynasties and the Consolidation of the Party System. Sydney: Lowy Institute for International Policy, 2009.
Nurdin, Ahmad Ali. "Comparing the Ideology of PKS and Malaysia's PAS." The Jakarta Post, November 28, 2005.
Sekretariat Jenderal DPP PKS Bidang Arsip dan Sejarah, Sikap Kami: Kumpulan Sikap Dakwah Politik PK dan PKS Periode 1998-2005. Bandung: Harakatuna Publishing, 2007.
Sembiring, Tifatul. "Preface" to Djony Edward, Efek Bola Salju Partai Keadilan Sejahtera. Bandung: Harakatuna Publishing, 2006.
Wahid, Hidayat Nur. "Power Means Serving Others." Van Zorge Report, (March 18, 2002
-------. "Islam, Democracy and Politics in Indonesia." The Jakarta Post, September 9, 2005.
Waluyo, Sapto. Kebangkitan Politik Dakwah: Konsep dan Praktik Politik Partai Keadilan Sejahtera di Masa Transisi. Bandung: Harakatuna, 2005.
Zulkieflimansyah. "Overcoming the Fear: PKS and Democratization." The Jakarta Post, December 13, 2005.
-------. "Prospects for the Justice and Prosperity Party (PKS) and Political Islam." USINDO Open Forum. Washington DC, June 8, 2006.
DOI:
https://doi.org/10.15575/isin.v1i1.4
Refbacks
There are currently no refbacks.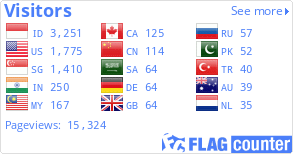 Islamika indonesiana is licensed under a Creative Commons Attribution-ShareAlike 4.0 International License