The Challenge of Democracy in Indonesia: The Case of Salafi Movement
Abstract
In spite of strong support of the majority of Muslims in Indonesia to democratic system, there are small numbers of Muslim who reject the democratic system. To name a few, I can mention here some groups of Muslims who oppose the democracy, such as Hizbut Tahrir Indonesia (HTI), Majelis Mujahidin Indonesia (MMI) and Salafis. These groups maintain that democracy is against Islam, because Islam does not recognize democracy. Democracy as symbolized by "the power of people" contradicts the basic doctrine of Islam concerning the sovereignty. In Islam, they maintain, the power or sovereignty belongs to God only. This essential concept creates various consequences dealing with governance of the ruled. This paper discusses the views of Salafis in Indonesia on the democracy. Despite their resistance of democracy, the Salafis consider a ruler resulted from democracy is valid, and Muslims should obey him: they are not allowed to criticize him publicly, and are not allowed to rebel against him.
Keywords
Salafis; manhaj; mushawarah; democracy; ahl al-hall wa al-'aqd; kufr.
References
Abaza, Mona. Islamic Education, Perceptions and Exchanges: Indonesian Students in Cairo. Paris: Cahier d'Archipel 23, 1994.
Abdat, Abdul Hakim bin Amir. Al-Masâ'il (Masalah-Masalah Agama), Vol. 1. Jakarta: Darus Sunnah Press, 2005.
-------. Hukum Tahlilan. Jakarta: Pustaka Mu'awiyah bin Abi Sufyan, 2009.
-------. Lau Kaana Khairan la Sabaquunaa Ilaihi. Jakarta: Pustaka Mu'awiyah bin Abi Sufyan, 2007.
-------. Risalah Bid'ah. Jakarta: Pustaka Mu'awiyah bin Abi Sufyan, 2004.
Al-Rasheed, Madawi. "The Minaret and The Palace: Obedience at Home and Rebellion Abroad", Kingdom without Borders, ed. Madawi al-Rasheed. London: Hurst and Company, 2008.
-------. Contesting the Saudi State: Islamic Voices from a New Generation. Cambridge: Cambridge University Press, 2007.
Azra, Azyumardi. The Origins of Islamic Reformism in Southeast Asia. Leiden: Asian Studies Association of Australia and KITLV, 2004.
Bruinessen, Martin van. "Kitab Kuning: Books in Arabic Script used in the Pesantren Milieu," BKI, 146 (1990): 226-269.
-------. "State-Islam Relations in Contemporary Indonesia: 1915-1990," State and Islam, ed. C. van Dijk and A.H. de Groot. Leiden: Research School CNWS, 1995.
-------. "Genealogies of Islamic Radicalism in Post-Suharto Era", South East Asia Research, 10:2 (2002): 117-154.
Hasan, Noorhaidi. "Education, Young Islamist, and Integrated Islamic Schools in Indonesia", Studia Islamika, 19:1 (2012): 77-111.
-------. "The Salafi Movement in Indonesia: Transnational Dynamics and Local Development", Comparative Studies of South Asia, Africa and the Middle East, 27:1 (2007).
-------. Laskar Jihad: Islam, Militancy, and the Quest for Identity in Post-New Order Indonesia. New York: Cornell University, 2006.
International Crisis Group (ICG). Indonesia Backgrounder: Why Salafism and Terrorism Mostly Don't Mix. ICG Asia Report No. 83 (13 September 2004).
Jawas, Yazid bin Abdul Qadir. Amar Ma'ruf Nahi Munkar Menurut Ahlus Sunnah wal Jama'ah. Bogor: Pustaka At-Taqwa, 2009.
-------. Mulia dengan Manhaj Salaf. Bogor: Pustaka At-Taqwa, 2008.
-------. Prinsip Dasar Islam menurut Al-Qur'an dan As-Sunnah yang Shahih. Bogor: Pustaka At-Taqwa, 2007.
-------. Syarah Aqidah Ahlus Sunnah wal Jama'ah. Bogor: Pustaka Imam Syafi'i, 2006.
Mandaville, Peter. "Transnational Islam in Asia: Background, Typology and Conceptual Overview," Transnational Islam in South and Southeast Asia: Movements, Networks and Conflict Dynamics, ed. Peter Mandaville. Washington: NBR Project Report, April 2009.
Meijer, Roel, ed. Global Salafism. London: Hurst and Company, 2009.
Pall, Zoltan. Lebanese Salafis between the Gulf and Europe. Amsterdam: Amsterdam University Press, 2012.
Wagemakers, Joas. "A Purist Jihadi-Salafi: The Ideology of Abu Muhammad al-Maqdisi." British Journal of Middle Eastern Studies, 36:2 (2009): 281-297.
-------. "A Quietist Jihadi-Salafi: The Ideology and Influence of Abu Muhammad al-Maqdisi". PhD thesis Radboud Universitiet Nijmegen, 2010.
DOI:
https://doi.org/10.15575/isin.v1i1.5
Refbacks
There are currently no refbacks.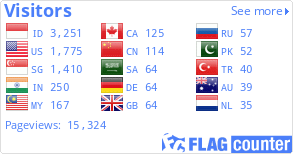 Islamika indonesiana is licensed under a Creative Commons Attribution-ShareAlike 4.0 International License