Nurcholish Madjid's Idea of Inclusive Theology in Islam
Abstract
Nurcholish Madjid was one of Indonesian Muslim intellectuals who had shaped specific school of Islamic thought known as neo-modernism. One of contemporary issues that he was concerned with was the problem of religious plurality, which was a fact in Indonesian religious life and had been debated among Indonesian Muslim scholars before him. However, at his era, the discussion of such an issue became more controversial and attracted wider debate. This is because he interpreted "Islam," which is commonly understood as religion of the followers of Prophet Muhammad, to mean "surrender" to God's will which is at the heart of all prophetic religions before him. In addition, he extended the concept of people of the book (ahl al-kitab), which includes exclusively the adherents of Judaism and Christianity as traditionalists understand, to cover other religious traditions such as Hinduism, Buddhism, and so on. Drawing greatly on Nurcholish's works, this article argues that his theology of religious pluralism can be categorized as inclusive, which is different from exclusivism.
Keywords
Inclusive Theology; Islam; Indonesia; Neo-modernism
References
Ali, 'Abdullah Yusuf. The Holy Qur'an: Text, Translation and Commentary. Maryland, USA: Amana Corporation, 1989.
Ali, Fachry and Bahtiar Effendy. Merambah Jalan Baru Islam: Rekonstruksi Pemikiran Islam Masa Orde Baru. Bandung: Mizan, 1984.
Anshari, Endang Saefudin. Kritik atas Paham Sekularisasi dan Pembaharuan Drs. Nurcholish Madjid [A Critiques of Nurcholish Madjid's Concept of Secularization and Renewal]. Bandung: Bulan Sabit, 1973.
Azra, Azyumardi. "Cak Nur: Neo-Modemis atau Neo-Traditionalis". Unpublished paper.
Barton, Greg. "The Impact if neo-Modernism on Indonesia Islamic Thought," in Democracy in Indonesia: 1950s and 1990s, ed. David Bourchier and Jhon Leggs. Clayton: Monash University Center of Southeast Studies, 1994.
---------. "Neo-Modernism: a Vital Synthesis of Traditionalist and Modernist Islamic Thought in Indonesia," Studia Islamika, 2:3 (1995): 1-75.
---------. "Indonesia's NurcholishMadjid and Abdurrahman Wahid as Intellectuals", Studia Islamika, 4:1 (1997).
Castles, Lance. "Notes on the Islamic School at Gontor," Indonesia, 1 (1996).
Geertz, Clifford. Islam Observed in Morocco and Indonesia. Chicago: The University of Chicago Press, 1971.
Hakiem, Lukman (ed.). Menggugat Gerakan Pembaruan Keagamaa: Debat Besar "Pembaruan Islam" [Charging Religious Renewal Movement: Great Debate of Islamic Renewal]. Jakarta: Lembaga Studi Informasi Pembangunan, 1995.
Hassan, Muhammad Kamal. Muslim Intellectual Responses to the New Order Modernization in Indonesia. Kuala Lumpur: Dewan Bahasa dan Pustaka, 1982.
Hidayat, Komaruddin. "Kata Pengantar" [Preface] to Nurcholish Madjid's Islam Agama Peradaban: Membangun Makna dan Relevansi Doktrin Islam dalam Sejarah. Jakarta: Paramadina, 1995.
Husnan, Ahmad. Jangan Terjemahkan al-Qur'an menurut Visi Injil dan Orientalis [Don't Translate the Qur'an in the Light of Bible and Orientalist Vision]. Solo: UlulAlbab Press, 1987.
---------. Ilmiah Intelektual dalam Sorotan [Intellectual Scientific Ideas Reviewed]. Solo: Ulul Albab Press, 1993.
Liddle, William. Leadership and Culture in Indonesia Politics. Sydney: Asian Studies Association of Australia, 1996.
Madjid, Nurcholish. "Interview," Matra Magazine, 77 (December, 1992).
---------. Dialog Keterbukaan: Artikulasi Nilai Islam dalam Wacana Sosial Politik Kontemporer [Open Dialogue: an Articulation of Islamic Values in Contemporary Socio-Political Discourse]. Jakarta: Paramadina, 1998.
---------. "The Issue of Modernization among Muslims in Indonesia: From a Participant's Point of View," in What is Modern Indonesian Culture?, ed. Gloria Davis. Athens: Ohio University Press, 1979.
¬¬¬---------. Islam, Kemodernan dan Keindonesiaan [Islam, Modernity and Indonesian- ness]. Bandung: Mizan, 1987.
---------. Pintu-pintu Menuju Tuhan [Gates on the Path of God]. Jakarta: Paramadina, 1995.
---------. Islam, Doktrin dan Peradaban: Telaah Kritis tentang Masalah Keimanan, Kemanusiaan dan Kemodernan [Islam, Doctrin and Civilization: a Critical Study of Faith, Humanism and Modernity]. Jakarta: Paramadina, 1992.
---------. "Masalah Simbol dan Simbolisme dalam Ekspresi Keagamaan [Symbol and Symbolism in Religious Expression]," in Kontekstualisasi Doktrin Islam dalam Sejarah, ed. Budhy Munawar-Rahman. Jakarta: Paramadina, 1994.
---------. "In search of Islamic Roots for Modern Pluralism", in Toward New Paradigm, ed. Mark R. Woodward. Arizona: Arizona State University, 1996.
---------. Islam Agama Peradaban: Membangun Makna dan Relevansi Doktrin Islam dalam Sejarah [Islam, Religion of Civilization: Developing a Sense of Islamic Doctrine in History and Its Relevance]. Jakarta: Paramadina, 1995.
Mastuhu. Dinamika Sistem Pendidikan Pesantren: Suatu Kajian tentang Unsur dan Nilai Sistem Pendidikan Pesantren. Jakarta: INIS, 1994.
Muṯahharī, Murtaḍā. Al-'Adl al-Ilāhī, Arabic trans. by M. 'Abd al-Mun'im al-Khaqqānī. Beirut: Muassasat al-Wafā', 1984.
Nasr, Seyyed Hossein. Traditional Islam in the Modern World. London: KPI, 1987.
---------. Islamic Life and Thought. Albany, NY: State University of New York, 1976.
Peterson, Michael, et. al. Reason and Religious Belief: an Introduction to the Philosophy of Religion. New York-Oxford: Oxford University Press, 1991.
Rahman, Fazlur. "Islam: Challenge and Opportunity," in Islam: Past Influence and Present Challenge, ed. Alford T. Welch and Pierre Cachia. New York: Edinburgh University Press, 1979.
Rasyid, Daud. Pembaruan" Islam dan Orientalisme dalam Sorotan [The Renewal of Islam and Orientalism Reviewed]. Jakarta: Usamah Press, 1993.
Rasyidi, H.M. Koreksi terhadap Drs. Nurcholish Madjid tentang Sekularisasi [Correction of Drs. Nurcholish Madjid's Secularization]. Jakarta: Bulan Bintang, 1972.
Riḍā, Muḥammad Rashī,d. Tafsī,r al-Manār, vol. 3. Egypt: al-Hay'ah al-Miṣriyyah, 1973.
Saifullah H.A., Ali. "Daarussalaam: Pondok Modem Gontor," in Pesantren dan Pembaharuan, ed. M. Dawam Rahardjo. Jakarta: LP3ES, 1988.
Shahrūr, Muḥammad. Al-Islām wa al-Imān: Manẓūmat al-Qiyam. Damascus: al-Ahālī li al-Tībā'ah wa al-Nashr, 1996.
Sirry, Mun'im. "Secularization in the Mind of Muslim Reformists: A Case Study of Nurcholish Madjid and Fouad Zakaria," Journal of Indonesian Islam, 1: 2 (2007): 323-355.
Suseno, Franz Magniz. "Islam, Agama Kemanusiaan: Pemikiran Keislaman Nurcholish Madjid." Unpublished paper.
Woodward, Mark R. "Nurcholish Madjid," in The Oxford Encyclopedia of Modern Islamic World, ed. John L. Esposito, vol. 3. New York and London: Oxford University Press, 1995.
DOI:
https://doi.org/10.15575/isin.v1i1.6
Refbacks
There are currently no refbacks.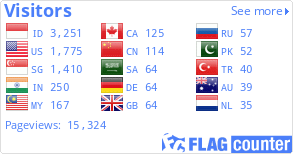 Islamika indonesiana is licensed under a Creative Commons Attribution-ShareAlike 4.0 International License